Marvel Studios' "Black Panther," is a global cultural phenomenon that has thrilled and inspired generations of moviegoers around the globe. "Black Panther" is the highly celebrated story of T'Challa (Chadwick Boseman), a young African prince who takes on the mantle of King and Super Hero. The film has dominated the box office charts emerging as the third biggest movie of all time domestically with over $665 million. Through the 4K Cinematic Universe Edition of "Black Panther," fans will experience the exhilarating adventure in stunning 4K Ultra HD with next-generation high dynamic range (HDR) visuals and Dolby Atmos immersive audio. Disc extras include never-before-seen commentary from director Ryan Coogler; deleted scenes; outtakes; and several making-of featurettes, which detail the Black Panther's evolution, the remarkable women of Wakanda, the history of T'Challa's proud nation, and the cosmic origin and technological applications of vibranium. Also included are a roundtable discussion with "Black Panther" filmmakers and writers; a featurette tracing the countless connections between heroes, characters and storylines within the Marvel Cinematic Universe; and an exclusive sneak peek at "Ant-Man and the Wasp." Fans can bring home the phenomenon, packed with light-hearted fun, pulse-pounding action and a powerful message, and watch it over and over again, Digitally in HD and 4K Ultra HD™ and Movies Anywhere on May 8 and on 4K Ultra HD™, Blu-ray™, DVD and On-Demand on May 15
.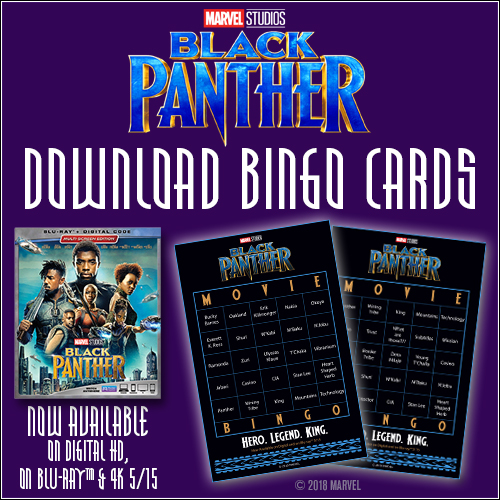 My Thoughts
Blank Panther is an exciting adventure film set in a futuristic world. It centers around Prince T-Challa, a new king who must fight his own family to keep his people safe.
Wakanda has access to a special metal which has advanced them well beyond the rest of the world, and there are others who want to steal its power. T-Challa forms a group of powerful allies to help, including some beautiful warrior women, one of which he is in love with. Another man named Erik, son of the king's brother, turns up to challenge his claim, but he fights back. With constant challenges, will T-Challa every bring his kingdom the peace it deserves?
This is a great movie with lots of action, and characters you want to root for. Though I haven't personally read the comics, my son did, and he said they stay reasonably true to the original story-line. There are quite a bit of subtitles and they are relevant to the plot, so be prepared to keep your eyes on the screen and bring your reading glasses if you have them. I love how the film ties in current events in a subtle way. This is such a strong cast of characters, fighting for what is right. The women characters are especially strong and breathtaking. I could watch it again and again. Be sure to pick up a copy for yourself in stores nationwide.