Meet the team that rocked the Stone Age when Early Man arrives on Digital May 15 and on Blu-ray

Combo Pack (plus DVD and Digital), DVD, and On Demand on May 22 from Lionsgate. From Aardman, the award-winning tribe that brought you Wallace & Gromit, Chicken Run, and Shaun the Sheep Movie, this prehistoric romp tells the epic story of Dug the caveman and his goofy friends who challenge invaders to a game of soccer in order to win back their home. Perfect for the young and young-at-heart alike, the cheerful tale told in charming, well-crafted claymation is Certified Fresh

on Rotten Tomatoes and is full of "abundant delights" (Ella Taylor, NPR). Starring in the film are Oscar

-winner Eddie Redmayne (Best Actor, The Theory of Everything, 2014; Fantastic Beasts and Where to Find Them), Tom Hiddleston (Thor: Ragnarok, Kong: Skull Island), Maisie Williams (TV's "Game of Thrones"), as well as Timothy Spall (Sweeney Todd: The Demon Barber of Fleet Street, Harry Potter Franchise).
Set at the dawn of time, when prehistoric creatures roamed the Earth, Early Man tells the story of courageous caveman hero Dug (Eddie Redmayne) and his best friend, Hognob, as they unite their tribe against a mighty enemy — Lord Nooth (Tom Hiddleston) and his Bronze Age City — to save their home.
The animated world of Early Man has extensive special features including never-before-seen featurettes that reveal the love, passion, hard work, and magic that goes into creating an Aardman Studios animated film. Early Man will be available on Blu-ray Combo Pack and DVD for the suggested retail price of $24.99 and $29.99, respectively.
BLU-RAY/DVD SPECIAL FEATURES
·
"Before the Beginning of Time: Creating Early Man" Featurette
·
"Nick Park: Massaging the Funny" Featurette
·
"The Valley Meets the Bronze" Featurette
·
"Hanging at Aardman Studios: A Workshop Exploration" Featurette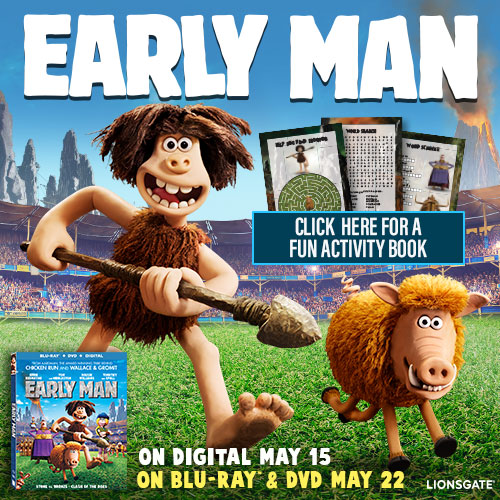 My Thoughts
Early Man is a cute movie about a group of cave men. They are living peacefully in their valley, when suddenly they are overtaken by men from the bronze age. In order to get back their home, the cave men challenge the bronze men to a game of soccer. But they don't know how to play. Even with the help of a new bronze age female who joins their team, they are still struggling until they learn that their ancestors had mastered the game long before their rivals. With a little teamwork, the early men hope to win back their home.
This is a really cute movie with lots of twists and turns. My kids loved all the characters, especially the carrier pigeon who repeated everything he heard. It was exciting to see the cave men take on their rivals, and I love how they were able to mix some modern humor in with the history. This is a great film kids of all ages can enjoy, and it would make a great choice for family movie night. Grab a copy for yourself in stores nationwide or online at Amazon.