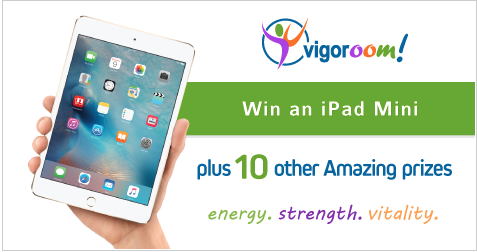 Summer 2016 just got a whole lot better. We are giving away some incredible prizes to help you add more vigor to your life. We have teamed up with our experts to offer a prize you can't find anywhere else - a FREE iPAD MINI plus a one-on-one Skype session that could change your life with one of our amazing experts.
We've made it super-easy to enter.
Step 2.
Enter the Rafflecopter Giveaway below
Here's the experts you can chose from based on what's most important to you!

"America's Trainer"

Kathy Smith

has helped millions of women get in shape and is ready to help you find your inner fitness enthusiast.
"Your Financial Lifeguard"

Christine Luken

gives you her special formula to reduce debt, increase savings and lower your stress.

Kent Burden

has trained celebs like Julia Roberts and can guide you to a healthier way of eating and more positive mindset.
Professor and clinical psychologist

Christine Hatchard

offers a roadmap for dealing with issues like emotional eating, depression and anxiety.
Attorney

Laura Fredricks

provides you with amazing insights into how you handle money so you can get more of what you want in life.
Therapist

Shawn Quinlivan

is a master of guided imagery and hypnotherapy and can change your world with just one conversation.
a Rafflecopter giveaway