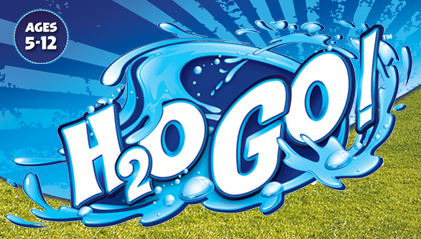 Bestway Lights Up Summertime Fun With A Colorful Line-Up Of Soaking Good H2OGO! Backyard Water Toys
Building On The Success of Backyard Water Slides, Bestway Extends Summertime Play With Unveiling Of Its Innovative Color Wave Pool, Doodle Glow Pool And Tether Ball Splash
After revolutionizing backyard water fun last summer with the launch of the first and only water slide with a built-in inflatable speed ramp,
Bestway, Inc.
is back in 2016 with an even more exciting line-up of H2OGO! outdoor water toys. Adding a new level of colorfully exciting water fun to the backyard, the H2OGO! Tether Ball Splash
, Doodle Glow
Pool
and the Color Wave
Pool
are sure to keep summer fun going all day and night.
A watery twist to a timeless favorite, H2OGO! Tether Ball Splash takes the classic fun of tetherball and infuses it with a new level of wet and wild excitement. Kids are able to battle each other in a heated game of schoolyard tetherball while staying cool as they swing and splash the spinning spray ball all the way to victory. Easy to assemble in minutes, the inflatable 6.5 foot Tether Ball Splash attaches to a garden hose and has a built-in water chamber at the base to keep the fun upright all summer long.
The backyard water fun transitions from day to night with H2OGO!¹s Doodle Glow Pool and Color Wave Pool. Both inflatable pools are designed to extend summertime fun into the evening hours.
Kids can splash around all night long in a rainbow of colors as the H2OGO! Color Wave Pool¹s built-in LED lights illuminate the walls of the pool in an array of five different neon colors.
Pushing the bounds of creativity, The H2OGO! Doodle Glow Pool takes the artwork off of the refrigerator and puts it on the bottom of the pool. Utilizing innovative technology, the Doodle Glow¹s fluorescent floor doubles as a blank canvas for kids to create an underwater, glow-in-the dark art show. Using two patent-pending LED underwater flashlights and a stencil set, kids can let their imagination splash wildly as they create an underwater world of glow art.
Both the Doodle Glow and Color Wave Pools are constructed with sturdy I-beam construction, extra-wide sidewalls, hold 147 gallons of water and are designed for easy assembly and take-down.
H2OGO! single, double
and triple backyard waterslides are back after sweeping across the nation in a tidal wave of fun last summer. The H2OGO! water slide¹s inflatable launch pad at the start of every slide reduces the impact of the landing. Without the ³ouch² of a belly-flop, riders are smoothly propelled down the 18-foot slide into the drench pool. Kids can either take turns sliding down the single slide or race each other on the double and triple slides.
³Every summer parents look for new ways to get kids active and keep them off of the couch,² says Andrea McCoy, marketing manager, Bestway USA Inc. ³Each of the new products in the H2OGO! line-up are specifically designed to promote physical activity and social interaction among kids and their families. We¹ve raised the bar for what kids and parents should expect when it comes to 21st century outdoor water play with this year¹s line-up of H2OGO! backyard water toys.²
With over 20 years of success in the global inflatable leisure and water sports product markets, Bestway¹s branded products are known in the industry for their unique, innovative and practical styles, designs, as well as excellent product features and quality. The H2OGO! water slides have a suggested retail price of $9.99 for the single slide, $17.99 for the double and $29.99 for the triple; $39.99 for the Color Wave Pool, $34.96 for the Doodle Glow Pool, $11.89 for the Tether Ball Splash. All are available at
Toys R' US
,
Amazon.com
,
Big Lots!
,
Kmart
, Walgreens and
Walmart.com
.
For more information on each of the H2OGO! inflatable products, please visit
www.h2ogoslides.com
About Bestway North America
Founded in 1994, Bestway (Bestway Global Holding) specializes in the supply chain of inflatable leisure products, water sports products, above ground pools and other leisure products. With a vertically integrated operation, Bestway is engaged in Research & Development, Manufacturing, Sales and Logistics. Bestway currently represents 25% of the industry¹s global market. For more information, please visit
https://www.bestwaycorp.us/
.
Setup was easy. You did need an air pump to blow up the center blue part that is roughly six feet tall. The yellow base can be filled with air or water. We chose water to give it a more solid grounding and less likely to tip over. After that, you bring the hose to it, twist it on, and you're ready to go.
We had to play around with the water pressure. Water squirts out the top of the blue pole, as well as out the ball. Lots of opportunity to get wet. With the base as wide as it was and the clear rope wasn't quite long enough. It was hard to get a good game of tether ball going. Especially with water coming out of the ball and usually going right for the face.
I liked the idea behind this toy, but it didn't work out well for playing tether ball. However, the kids still had a lot of fun, using it other ways and getting drenched. So it was still be a hit with the kids and they do request to play with it. My daughter enjoys to play with it along and does her own thing with toys and the ball.
As far as working as a tether ball, the idea is there. For the most part, the rope glides around from the top effortlessly. If the blue middle wasn't as thick as it was, I think you'd be able to play a little better. As it is now, it's hard to hit the ball back and forth.
My kids have used this without water. We have it set-up on our patio right now and they like to go out and smack it back and forth with each other. They enjoy the tether ball aspect of this without the water better.
Over all, I do like this. It has gotten my kids playing outside.