ARC received via Netgalley. No financial reimbursement. Review by Tara.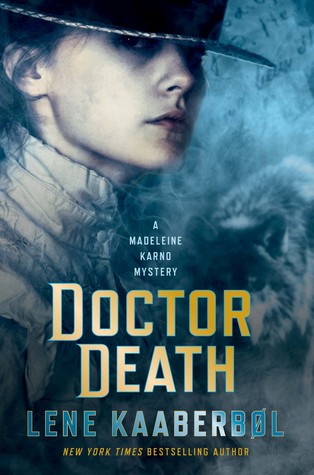 From the New York Times bestselling coauthor of The Boy in the Suitcase, a gripping historical thriller and poignant coming-of-age story set in nineteenth-century France.

Madeleine Karno is an ambitious young woman eager to shatter the confines of her provincial French town. Driven and strong headed, Madeleine is set apart by her unusual occupation: assisting her father, Dr. Albert Karno, in his job as a forensic doctor.

The year is 1894, and a young girl is found dead on the snowy streets of Varbourg. Dr. Karno is called in to determine the cause of her death, but before he can examine the body, the girl's family forbids the autopsy from taking place. The only anomaly he manages to find is in the form of a mite in her nostril. Shortly after, several other dead bodies are discovered throughout the city, and Madeleine, her father, and the city commissioner must use the new science of forensic evidence to solve the mysterious cases before they all become the next victims of a deadly disease - or of a heinous murderer.
This is a very dark historical tale/mystery following disturbed people with diseases, sexual desires, secrets, and religious delusions. Some of the occurrences within shocked me. It made me think of a historical Patricia Cornwell novel with this heroine, Maddie, as the historical Dr. Scarpetta.
It's very long ago France. Women still wear corsets. Men inherit everything. Women are NOT supposed to be doctors, let alone coroners or the like, but Maddie wants to do this above all else and a carriage accident finally provides her the chance to step into her father's shoes for a while and get in on a case involving dead bodies on ice, wolves, a convent, and nasty little mites in the nose.
And then there's a very dashing professor who suddenly has his sights on Maddie.
There were lots of twists and turns in this story. The mystery is not easy to piece together. Too many of the characters withhold information. I was kept guessing and as I said above, repeatedly shocked. The heroine is strong but not unbelievably so. She has her moments in which she's shaken by what's she witnessed--understandably. She has good intentions and a lot of drive.
I think the story lacked emotion though. There were many instances with her, her father, the professor, others, that I felt exhibited too little emotion for the situation; they were a bit too robotic. Despite this, the writing itself is stellar.
The ending didn't adequately explain some things for me. It's hard for me to convey what I mean without putting spoilers in this though. There are many things in the story that I mustn't reveal.
And to be frank, I found some things just a bit too perverted. I was saying, "Um, seriously? That's sick."
But I was entertained and I liked it enough to possibly check out the second book whenever it comes out. It truly is like a historical Dr. Scarpetta. I'd also like to add that there is a moral I appreciate: never jump to conclusions, especially if it's an assumption that someone has done wrong. Being weird does not make one a killer.